A cookie is a baked or cooked good that is small, flat and sweet. It usually contains flour, sugar and some type of oil or fat. It may include other ingredients such as raisins, oats, chocolate chips, nuts, etc.
christmas Cookies are most commonly baked until crisp or just long enough that they remain soft, but some kinds of cookies are not baked at all.
Cookies are made in a wide variety of styles, using an array of ingredients including sugars, spices, chocolate, butter, peanut butter, nuts, or dried fruits.
The softness of the cookie may depend on how long it is baked.christmas cookies
Cookies are often served with beverages such as milk, coffee or tea.
3/4 c. cup unsalted butter, at room temperature
1/2 c. sugar
1/2 c. brown sugar
1 large egg
2 tsp. vanilla
2 1/4 c. all-purpose flour
1 tsp. baking soda
1/4 tsp. kosher salt
1/3 c. crushed potato chips
1/3 c. Crushed Pretzels
1/3 c. semi-sweet chocolate chips
3 tbsp. red and green sprinkles
Flaky sea salt, for garnish
Preheat oven to 350º and line two cookie sheets with parchment.
Cream together butter and sugars until light and fluffy, 3 to 4 minutes.
Mix in egg and vanilla.
In another large bowl, whisk flour, baking soda, and salt. Add dry ingredients to wet and mix until smooth. The dough will be thick.
Gently stir in chips, pretzels, chocolate chips, and sprinkles.christmas cookies
Make tablespoon size balls of dough. Slightly press them down onto the cookie sheet and sprinkle with sea salt.
Bake until edges are just starting to get golden, 7 to 8 minutes.
Remove from oven and let cool 2 to 3 minutes, then transfer to cooling rack to cool completely.
INGREDIENTS
1 cup butter, softened

1 package (8 ounces) cream cheese, softened

2 cups sugar

1 large egg

1 teaspoon vanilla extract

1/4 teaspoon almond extract

1/4 teaspoon coconut extract

3-1/2 cups all-purpose flour

1 teaspoon baking powder

Miniature semisweet chocolate chips, and green and red M&M's minis
FROSTING:

1 cup confectioners' sugar

1/8 teaspoon coconut extract

2 to 4 teaspoons 2% milk

Red and/or green food coloring

Miniature milk chocolate kisses, unwrapped
1 In a large bowl, cream butter, cream cheese and sugar until light and fluffy. Beat in egg and extracts. In another bowl, whisk flour and baking powder; gradually beat into creamed mixture. Refrigerate, covered, overnight.

2 Preheat oven to 325°. Shape dough into forty-eight 1-in. balls, forty-eight 3/4-in. balls and forty-eight 1/2-in. balls. On ungreased baking sheets, place one ball of each size, side by side, for each snowman.

3.Bake 18-20 minutes or until light brown. Remove from oven; cool on pans 2 minutes. Press on chocolate chips for eyes and M&M's for buttons. Carefully remove from pans to wire racks to cool completely.

4.For frosting, in a small bowl, beat confectioners' sugar, extract and enough milk to reach a piping consistency. If two colors of frosting are desired, transfer half of the frosting to another bowl and tint each with a different food coloring.

5.Cut a small hole in a corner of a food-safe plastic bag; fill with frosting. Pipe scarves on snowmen. Use frosting to attach chocolate kisses for hats.

Yield:

4 dozen.
Dessert ready in an hour! Enjoy these Christmas tree shaped cookies topped with candy sprinkles – perfect to treat a crowd.
Ingredients
1/4 cup Gold Medal™ all-purpose flour
1tablespoon green crème de menthe liqueur or crème de menthe syrup
Cookies
Candy sprinkles or miniature candy-coated chocolate baking bits
Steps
1 Heat oven to 350°F. In a small bowl, mix green dough ingredients until well blended. Place dough in decorating bag fitted with small writing tip; set aside.
2 Work with half of the dough at a time; keep remaining dough refrigerated. On a lightly floured work surface, roll out dough with rolling pin to 1/4-inch thickness. Cut with 2 1/2- to 3 1/2-inch tree-shaped cookie cutter; place 2 inches apart on ungreased cookie sheets.
3 Squeeze decorating the bag to pipe green dough around the outer edge of each tree cookie; pipe dots randomly in the center. Top each dot with candy sprinkle.
4 Bake 9 to 11 minutes or until light golden brown. Cool 1 minute; remove from cookie sheets.
Just like the name says, this is the chocolate chip cookie extraordinaire! Definitely one of the favorites!
Steps
1 Heat oven to 375ºF.
2 Mix sugars, butter, vanilla and egg in large bowl. Stir in flour, baking soda and salt (dough will be stiff). Stir in nuts and chocolate chips.
3 Drop dough by rounded tablespoonfuls about 2 inches apart onto ungreased cookie sheet.
4 Bake 8 to 10 minutes or until light brown (centers will be soft). Cool slightly; remove from cookie sheet. Cool on wire rack.christmas cookies
5) Thumbprint Raspberry Christmas Cookies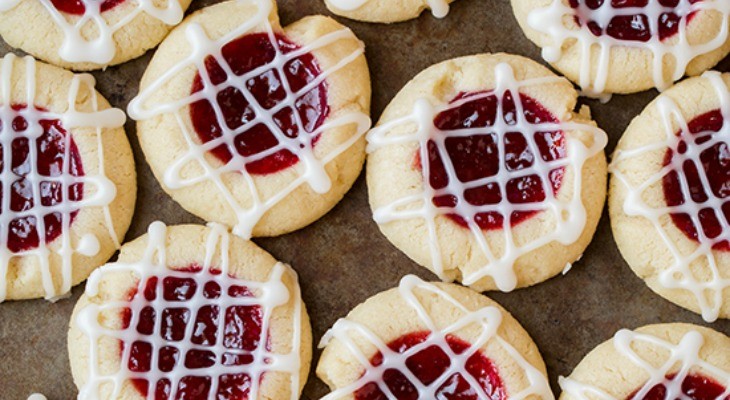 These delightful treats are a welcome addition to any cookie tray. The colorful bites are filled with your favorite jelly.
1/4cup packed brown sugar
1/4cup butter or margarine, softened
1cup Gold Medal™ all-purpose flour
3/4cup finely chopped nuts
Steps
2

Mix brown sugar, shortening, butter, vanilla and egg yolk in medium bowl. Stir in flour and salt until dough holds together.

3

Shape dough into 1-inch balls. Beat egg white slightly. Dip each ball into egg white. Roll in nuts. Place about 1 inch apart on ungreased cookie sheet. Press thumb deeply in center of each.christmas cookies

4

Bake about 10 minutes or until light brown. Immediately remove from cookie sheet to wire rack. Cool completely, about 30 minutes. Fill thumbprints with jelly.
"A nice thing to have around during the holidays, but don't expect them to stay around long. These orange-flavored cranberry cookies are tart and delicious, not to mention beautiful. Not really a favorite of kids."christmas cookies
1. Preheat the oven to 375 degrees F (190 degrees C).
2. In a large bowl, cream together the butter, white sugar and brown sugar until smooth. Beat in the egg until well blended. Mix in 1 teaspoon orange zest and 2 tablespoons orange juice.
Combine the flour, baking soda and salt; stir into the orange mixture. Mix in cranberries and if using, walnuts, until evenly distributed. Drop dough by rounded tablespoonfuls onto ungreased cookie sheets. Cookies should be spaced at least 2 inches apart. christmas cookies
3. Bake for 12 to 14 minutes in the preheated oven, until the edges are golden. Remove from cookie sheets to cool on wire racks.
4. In a small bowl, mix together 1/2 teaspoon orange zest, 3 tablespoons orange juice and confectioners' sugar until smooth. Spread over the tops of cooled cookies. Let stand until set.